Inspiration was at Jennifer's doorstep while growing up on a quiet lake. The country road to her family home along with Pan Yack Park captured her heart. She was a commissioned artist by the time she turned 18.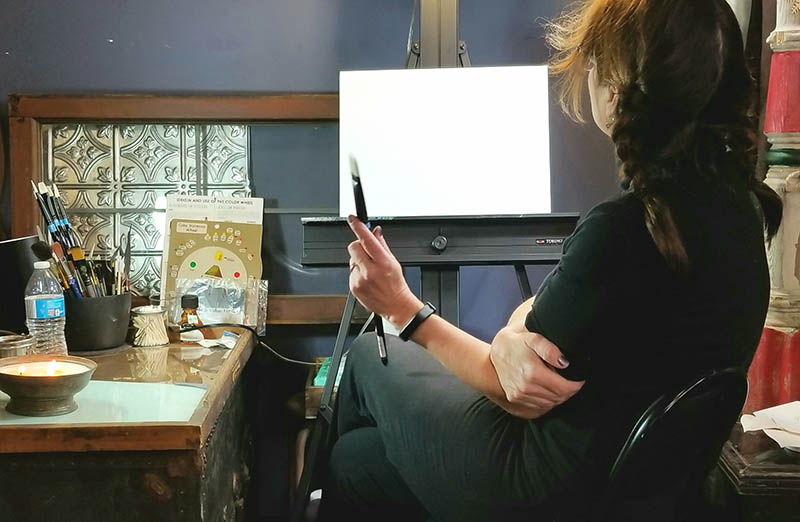 Jennifer's background in commercial art and advertising complements her fine art, which includes utilizing acrylics, watercolors, and oils. The Riverview Studio, which opened in 2003 was a solid testament to Jennifer's passion.

Jennifer now lives in Burlington, Wisconsin with her husband Mark and two boys Wyatt and Eli. Their family farm is on Honey Creek. A beautiful river that runs past her kitchen window, as well as through the farmland.

The Riverview Studio is a barn that was turned into Jennifer's fine art studio and gallery. You can commission her to paint a custom painting for your home or business. In the studio, you can come to view her gallery of original work and prints of the paintings she has created.

Nine years ago, she began Get Artzy, LLC. , offering art classes in the colorful, countryside retreat to young and old alike. Children as young as 6 years old are welcomed in to learn the fundamentals of artwork, while Jennifer helps them to shine and feel successful as individuals, and encourages group dynamics without competitiveness.

Adult classes have proven a big hit as well, as Jennifer's perpetually sunny disposition puts her clients at ease whether they are seasoned veteran painters or rookies with a paintbrush and palette. Jennifer's passion to share her love of art is the epitome of the adage "Do what you love, and love what you do". She is an outgoing inspirational person with a gentle heart. She believes that family, friends and helping your community make the person you are.

Commissioned Art
If you are interested in a custom painting, Jennifer can create a work of art that is perfect for your home or business. All original art commission is priced per project. To set up an appointment with Jennifer Miller at her studio call:
262.492.3697 or email riverviewstudio@wi.rr.com